Go Watanabe
Solo Exhibition
Whereabouts
Saturday, March 5 - Saturday, April 2, 2022
---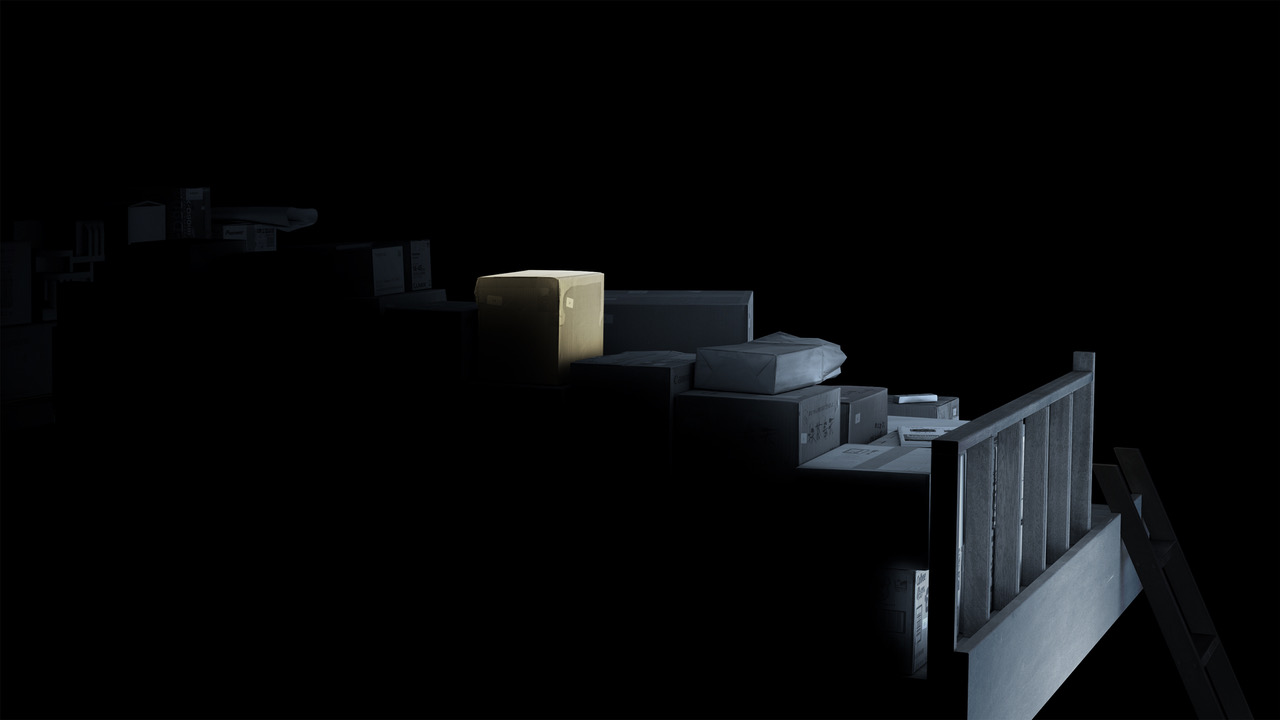 rotating studio (loft) 2021-2022, 4K video (3D animation), 33min 49sec
In cooperation with: DELTA Electronics, Inc.


We at ANOMALY are pleased to announce an upcoming solo exhibition of works by Go Watanabe. Titled Whereabouts , it will run from March 5 (Sat.), 2021 to April 2 (Sat.), 2022.
While studying at the Graduate School of Aichi Prefectural University of the Arts, Go Watanabe (Born in Hyogo, 1975) began to experiment with modes of artistic expression made possible by the techniques of 3DCG. In 2002, Watanabe presented face, for which he created a facial structure composed of polygons and covered it with images of human skin. He went on to develop a face ("portrait") series by superimposing various images of human skin on the same 3D model and creating portraits of anonymous subjects. While using the same technique, beginning around 2009, Watanabe shifted his choice of motifs in his works to familiar things around him such as books, tableware, and rooms, and now mainly creates animation videos that move independently from the properties of physics and optics, or installation pieces that are combined with these videos. In his recent works especially, he focuses on the movement of light and makes us realize that light is the way of perceiving landscape as well as being perception itself. The subtle energy inherent in his work allows us once again to pause and recognize what our eyes perceive.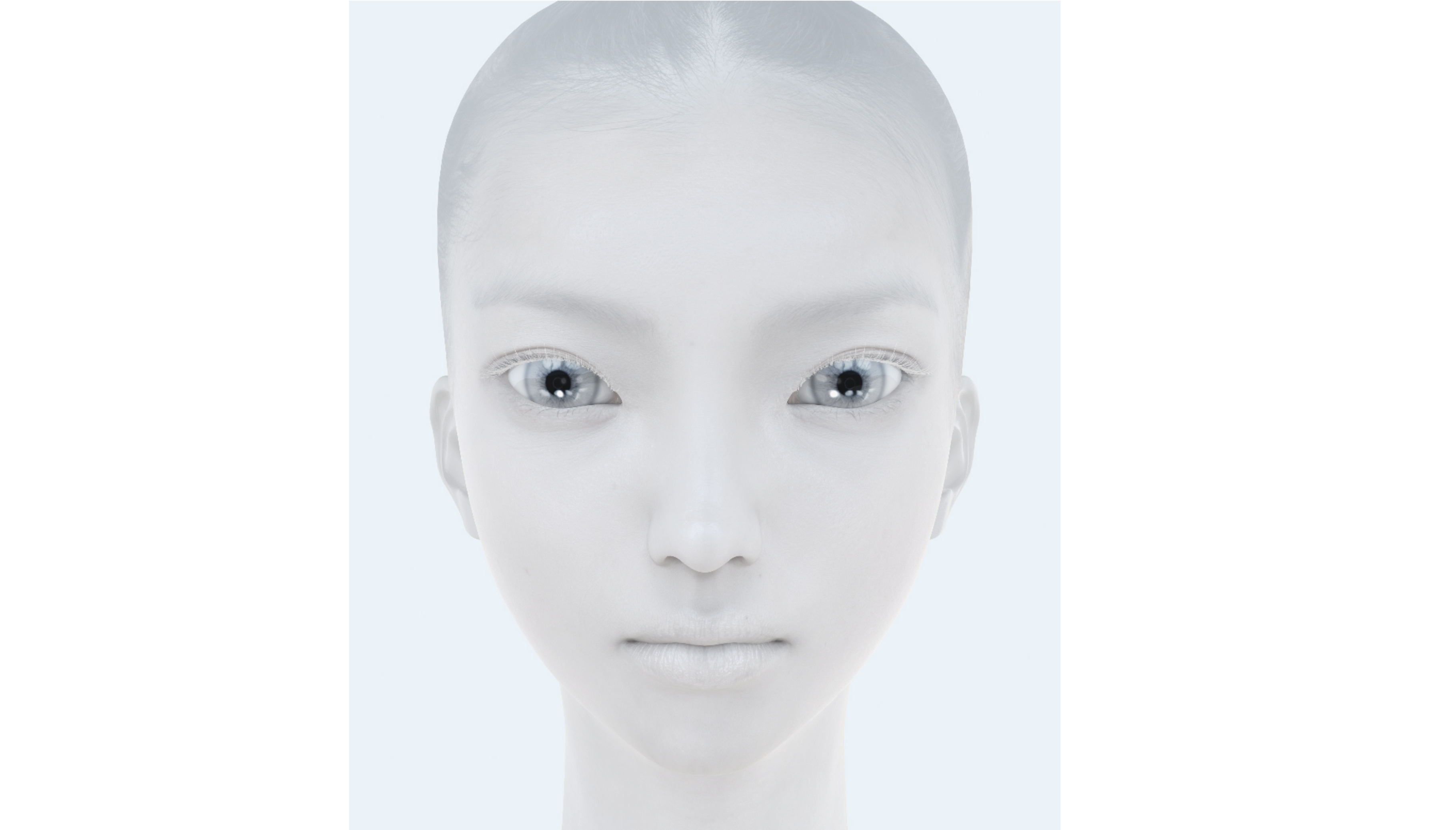 One of the extremely important elements in Watanabe's artistic production is light. Finland, where he resided for about one year after winning the Newcomer's Prize of Art in the Gotoh Memorial Cultural Award in 2013, has "white nights" when the sun stays up for almost the whole day and "polar nights" on days when the hours of sunlight are extremely short. There, he experienced how physiological phenomena that had operated both unconsciously and habitually before no longer functioned at all, and specifically, the discrimination of day and night by the change in sunlight, and synchronization of the body accordingly. This completely new experience of a great gap opening between cognition/perception and physical sensation served to make him aware that all objects existing in this world are reflections of light that enter our eyes, and that light itself exerts a strong influence on the body.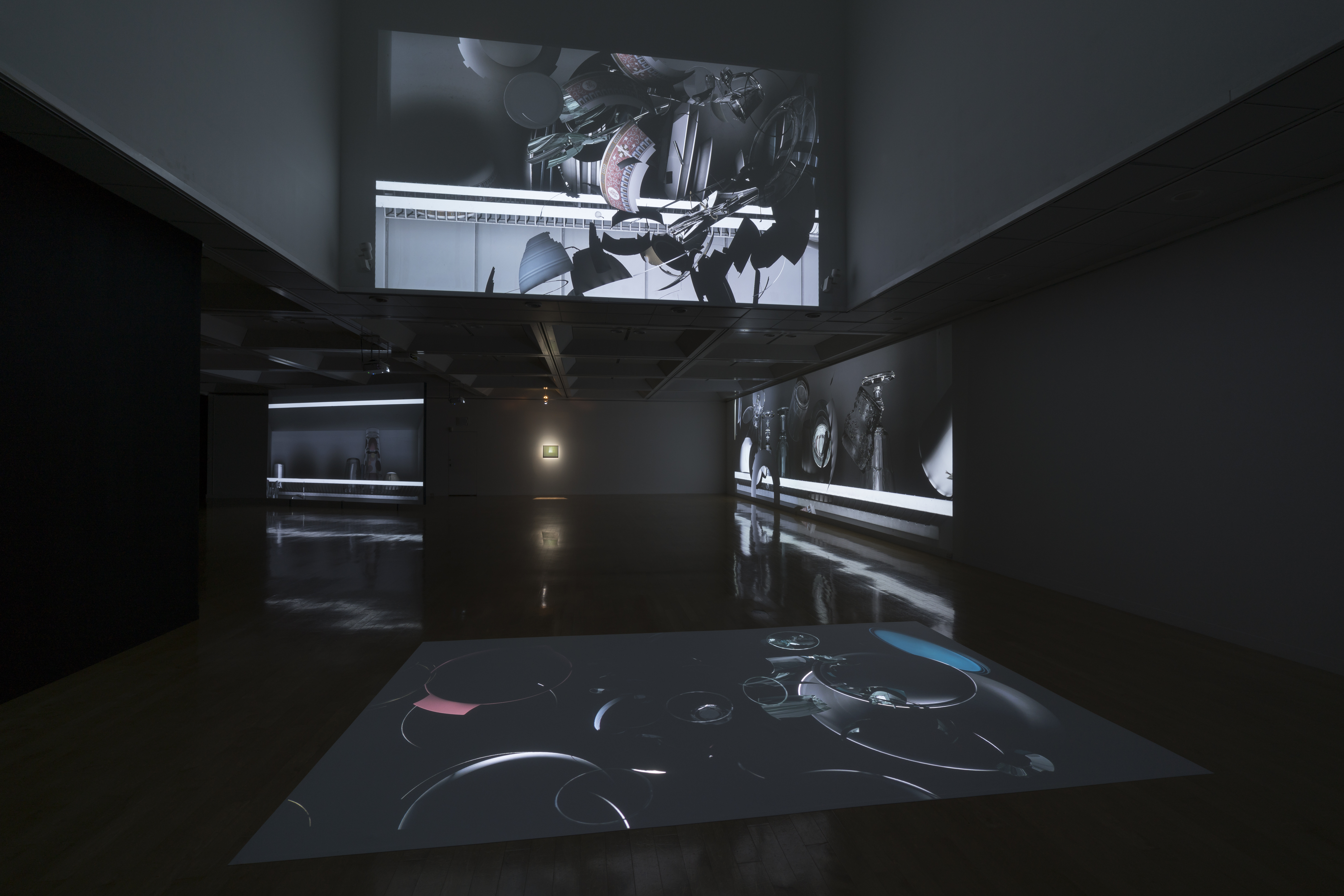 This exhibition, Watanabe's first solo one at a gallery in quite a while, will display new animation videos concerning two places (the artist's own studio and home); the works in the animation video series the towers (lights are books), which was shown at the Maison Franco-japonaise gallery in the Ebisu Video Festival last year and takes books stacked on the floor of his house as its motif; and prints. These works have motifs that are in all cases familiar articles in the artist's everyday life. They also share an irradiation by light brought in at places and times that are completely different from those of the usual location of these motifs.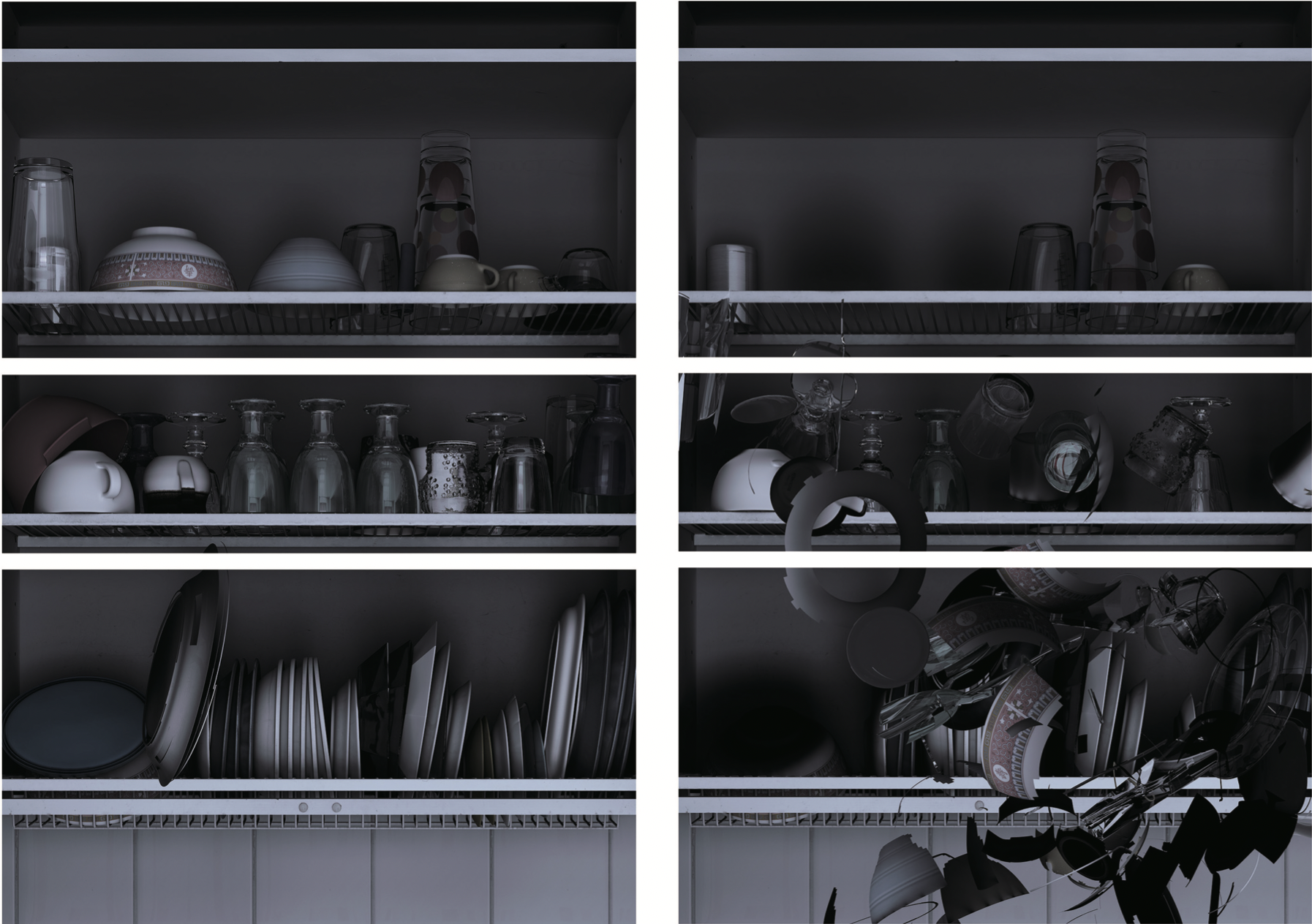 Due to the continuous patterns of slowly changing light shining at plural times and from plural sources, viewers find their vision going back and forth over different times and spaces, and become conscious of the period leading up to one point and the drift to the next period starting from it. We realize that, even without narrative motifs and theatrical arrangements, the existence of light per se is a kind of drama. Watanabe's technique, which could even be termed pictorial, graphically expresses the change in how the world appears to us, depending on light. It is a type of video expression unique to Watanabe, who shifted to 3DCG in order to pursue more real modes of presentation after studying oil painting.
the towers (lights are books) is counted as one of Watanabe's major works in recent years. Besides being familiar motifs stacked up on the floor of his house, the books are also symbols of human wisdom. Their illumination by various kinds of light in this work seems to suggest the course of human thought thus far as well as the richness and diversity of human intelligence and spirit.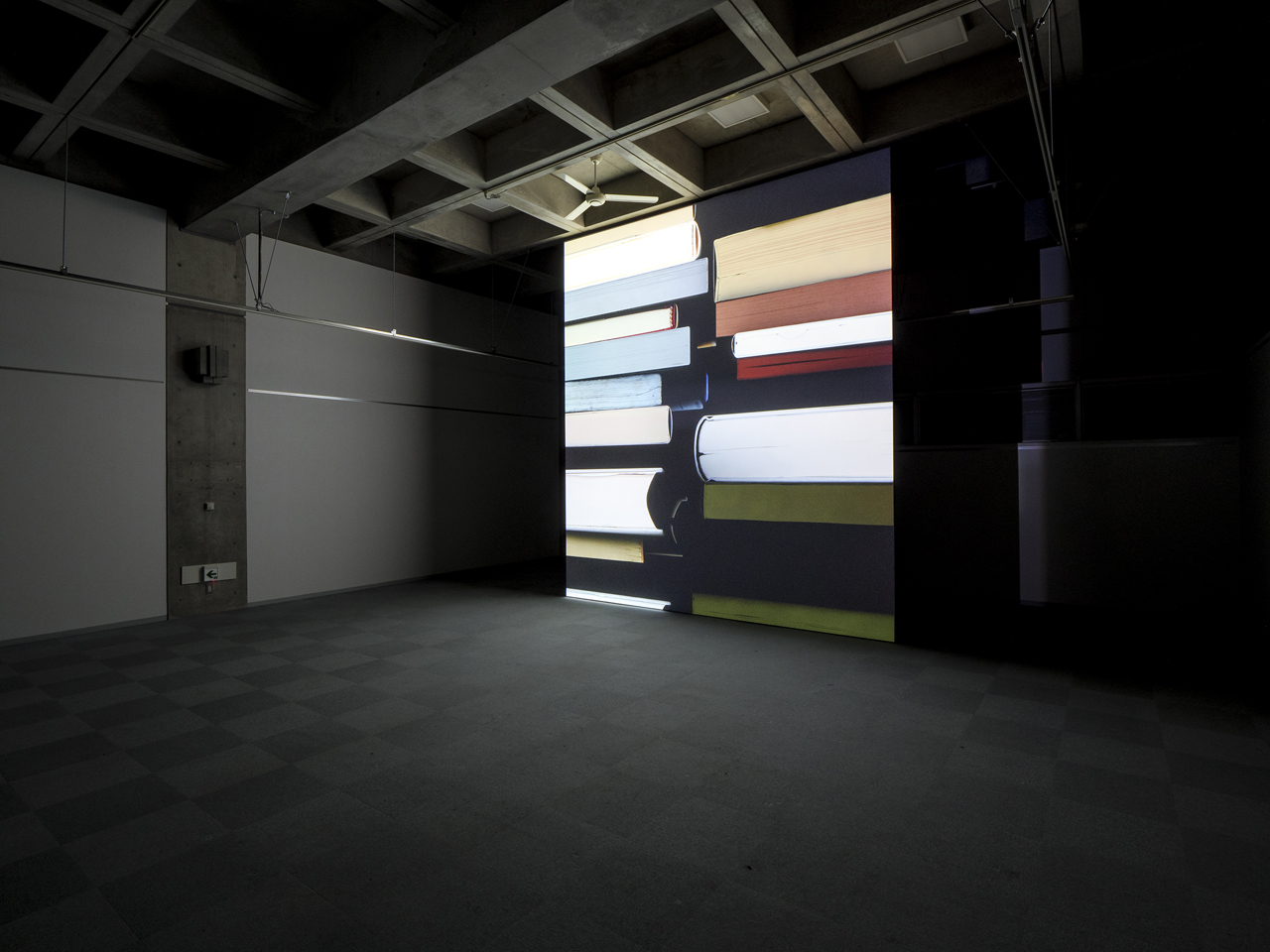 In his book The Vision Revolution: How the Latest Research Overturns Everything We Thought We Knew About Human Vision, the theoretical cognitive scientist Mark Changizi puts forth the theory that primates developed the capability and cognition for perceiving color because of evolution to distinguish changes in the wavelength distribution (spectrum) of light reflected by the skin of their own species. For one of his initial works, Watanabe pasted images of human skin on a face composed of polygons, and lit the output film from behind. In this work, he may have already unconsciously expressed the deep linkage of the visual process with human evolution and the question of how consciousness was born.
At present, we are seeing the fast-paced advancement of media and networks as exemplified by the development of virtual reality technology and avatars. In this situation, Watanabe's works will surely provide us with perspectives that will be effective for getting a new appreciation of "seeing," inducing a transformation of our somatic sensation, and stimulating our awareness.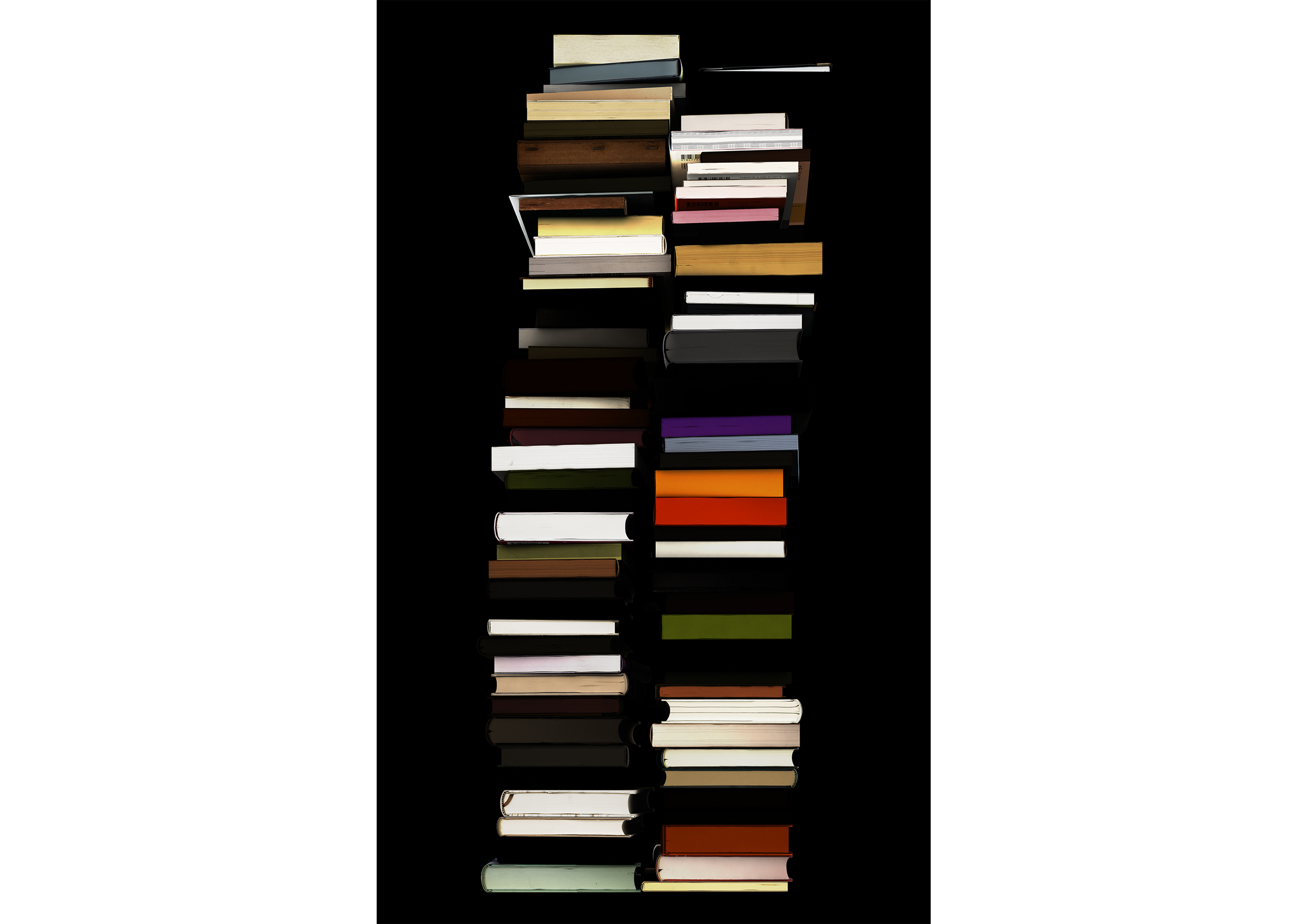 Artist's statement
Returning from Finland after finishing my studies there for a year beginning in late 2013, I took up residence with my partner, and also rented a separate apartment for myself with a loft as a studio for my production. From that time to the present, I have constantly led a life that has me going back and forth between my studio and home. This lifestyle is characterized by the cohabitation of two sets of value and meaning, one of life alone centered on production, and one of life with the family. These two lives go through repeated cycles of mutual rejection and acceptance while frequently encroaching upon each other's territories. Partly because I have unavoidably become more keenly aware of things in my midst under the influence of Covid-19, the fuzzy relationship between my studio and my home has come to the fore in my mind over the last few years. So far, I have pondered the conformity and probability of landscapes before my eyes through my works, but now, these two places are the closest "landscapes before my eyes." While restructuring the day's light at each of them, I interpose photos I took day after day when my involvement with those two places began, using them as light sources (as I consider photos to be recorded light). By so doing, the interplay of the shared times generates new landscapes.
Go Watanabe
Please also note that Taro Amano, an independent curator, has composed a text for this exhibition. We urge you to read this text of the following title.
"On Whereabouts, or the Arche (Fountainhead) of Image – Concerning the Go Watanabe Exhibition"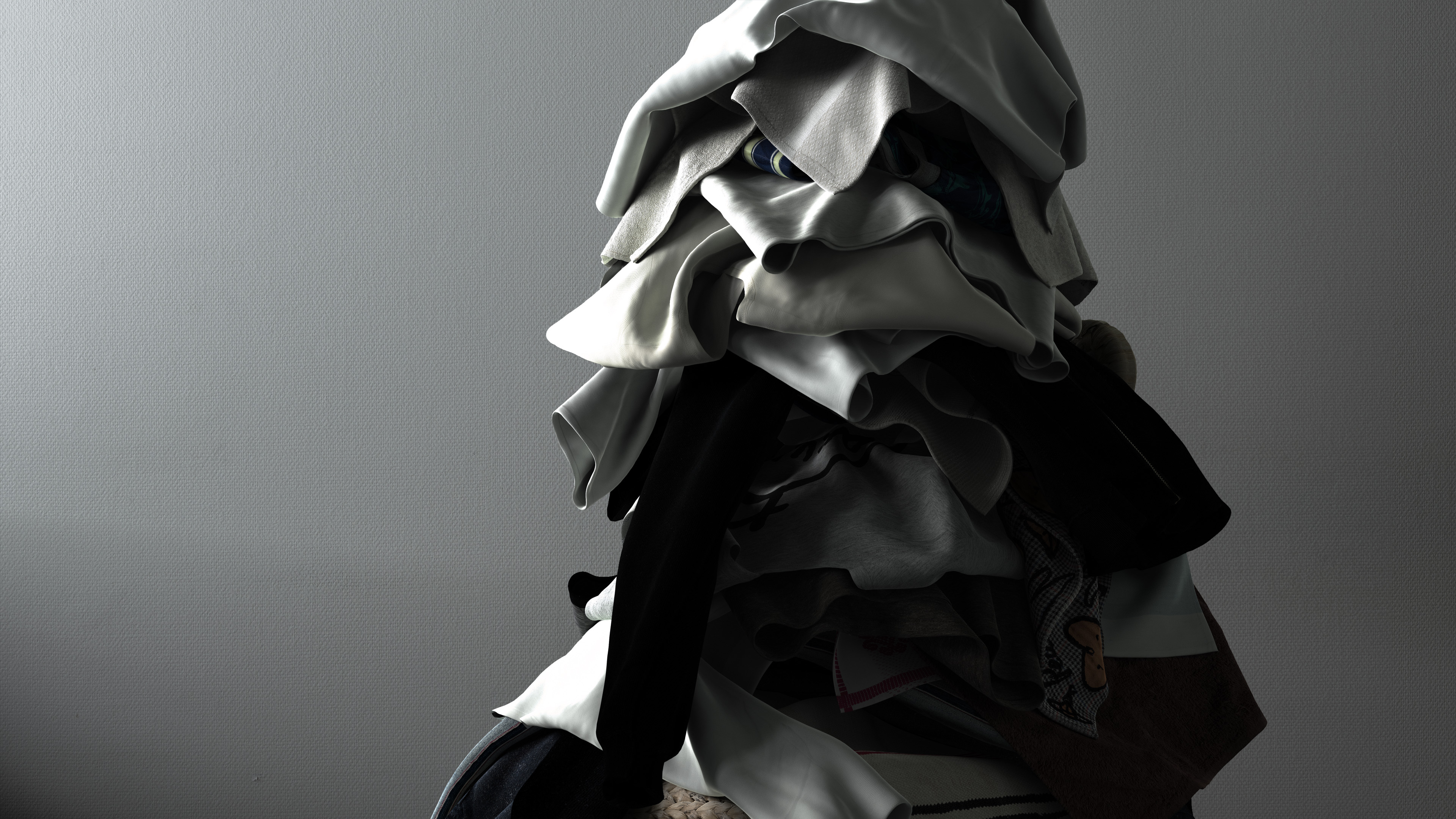 We have also scheduled a talk event with the artist Yurie Nagashima during the run of this exhibition. Once the details have been finalized, we shall provide information on this event on the Anomaly website and SNS account.
Please also note that other works by Watanabe will be displayed at the exhibition titled Countermeasures Against Awkward Discourses: From the Perspective of Third Wave Feminism, (21st Century Museum Art, Kanazawa) and the solo exhibition titled Go Watanabe 'one landscape,' a journey (KAMU kanazawa) held at the same time as this exhibition.
---
Bibliography:
–Azamino Contemporary vol.8 Go Watanabe dislocation, Yokohama Civic Art Gallery Azamino, Kanagawa, 2017
- Mark Changizi , The Vision Revolution: How the Latest Research Overturns Everything We Thought We Knew About Human Vision, Hayakawa Publishing, 2020
---
Born in Hyogo, 1975. Lives and works in Tokyo. Received a master's degree from the Aichi Prefectural University of the Arts Graduate School in 2002.
His main solo exhibitions in recent years were Go Watanabe / dislocation at Yokohama Civic Art Gallery Azamino, Kanagawa, Japan (2017), and Go Watanabe – one landscape, a journey at KAMU Kanazawa, Kanazawa, Japan (2021 – 2022). The main group exhibitions in which he participated were Cosmic Travelers – Toward the Unknown, Espace Louis Vuitton, Tokyo (2012); Carpe Diem / Seize the Day, Toyota Municipal Museum of Art, Aichi, Japan (2012); Aichi Triennale 2013; Logical Emotion – Japanese Contemporary Art (which toured Switzerland, Poland, and Germany over the years 2014 – 2015); Art Begins from the Forest, 50th anniversary exhibition, Aichi University of the Arts (2016); ACT Vol. 3 Stasis Field, 2020 – 2021, Tokyo Arts and Space Hongo (2021); 13th Ebisu Video Festival, E-MOTION GRAPHICS – Feelings of the Image, Tokyo Photographic Art Museum (2021); and Countermeasures Against Awkward Discourses: From the Perspective of Third Wave Feminism, 21st Century Museum of Contemporary Art, Kanazawa (Ishikawa, 2021 – 2022).
In 2013, Watanabe was awarded the Newcomer's Prize of Art at the 24th Gotoh Memorial Cultural Award, which gave him the grant for residence for about one year in Finland for overseas study. In 2014, he was nominated to be a finalist for the APB Foundation Signature Art Prize, and his work was exhibited at Singapore Art Museum.
Notification of precautions and requests
To prevent the spread of COVID-19, and to ensure the safety of visitors, artists, staff, and the community in compliance with the government's health guidelines, please take a moment for the following requests upon your visit.
To avoid three C's (Closed and Crowded place, Close contact), please refrain from visiting the gallery in large groups.
Visitors are asked to wear masks and sanitize hands before entering the gallery. Hand sanitizer is available at the entrance.
Please refrain from visiting the gallery if you have symptoms such as a fever (37.5°C or higher) or cough.
Our staff will have temperatures taken before coming to work to check health conditions every day, and will guide you by adopting frequent hand hygiene and wearing masks.
The entire space will be regularly ventilated and we will disinfect the high-touch areas.
Please check our website or SNS for the latest information about opening hours, as we may change it or close the gallery in unpredictable circumstances.
We appreciate your cooperation.