Yosuke Takayama
Solo Exhibition
"Open Space"
Saturday, June 8, 2019 - Saturday, July 6, 2019
---
Reception for the artist: 18:00 – 20:00 Saturday, June 8, 2019
Gallery hours: 11:00-18:00, 11:00-20:00 (Fri)
Closed on Sunday, Monday and National Holiday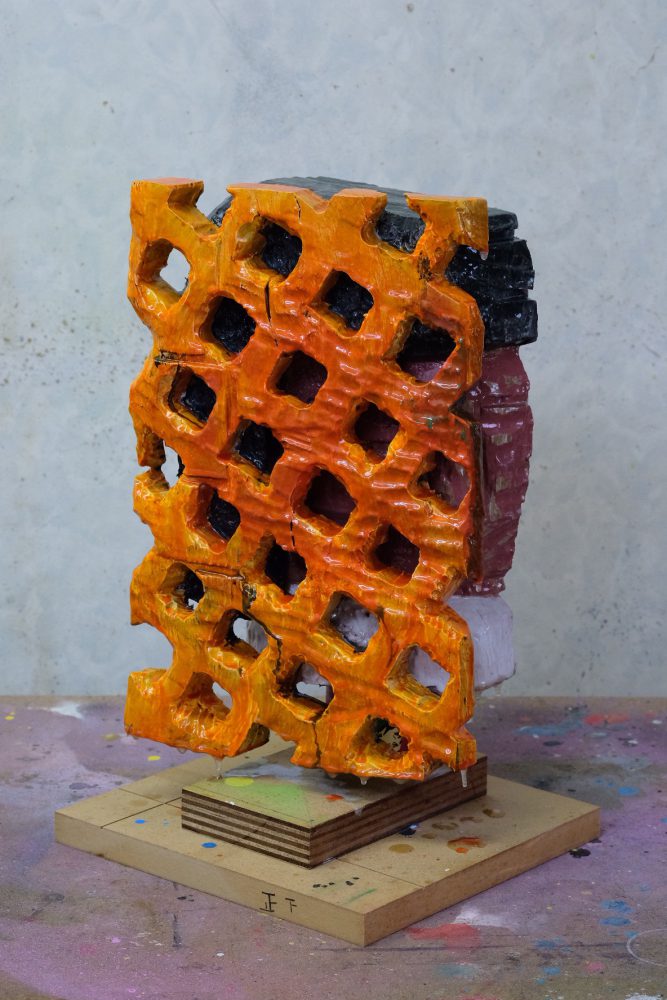 Untitled (Head #63)
2019, Wood, acrylic paint, urethane paint, can, newspaper, plywood
H38×W22×D21.5cm
© Yosuke Takayama
ANOMALY is pleased to announce the upcoming solo exhibition "Open Space" by Yosuke Takayama. The exhibition will commence on June 8 and continue until July 6.
Born in 1980, Takayama received his M.A. in Sculpture from the graduate school of Tama Art University in 2007. For more than a decade, he utilizes wood as fundamental material for his creation. The previous solo exhibitions include "Unknown Sculpture Series No.4" (gallery21yo-j, Tokyo, 2017), "Nakaniwa" (CAPSULE, Tokyo, 2016), and "Under 35 Yosuke Takayama" (BankART Studio NYK, Kanagawa, 2015), among other curated exhibitions "Eri Takayanagi x Yosuke Takayama x Masaya Chiba" (Tama Art University Art-Theque Gallery, Tokyo, 2017), "AKIBATAMABI 21 curated show" (AKIBATAMABI 21, Tokyo, 2015), "COLLECTION+ The act leaves a trace" (ARTS MAEBASHI, Gunma, 2016), and "Group Show" (Tama Art University, Tokyo, 2015). In recent years, his artistic practice and investigation continue to develop across the work-in-progress presentation during the open studio took place at Fuchu Art Museum (2015), and the Susaki artist-in-residence program in Kōchi (2019).
Based upon a traditional form of the wooden sculpture employing a chunk of material to work on, Takayama constantly pursuits the concept of sculpture to update in the contemporary history with a diverse range of presentations: woodcut print by engraving slim wood block, relief work underlining its two-dimensional facade, and unconventional pedestals to correspond with artworks. The subjects stem from the depiction of his everyday life and persons to encounter, and the featured series of the head statue counts over sixty today. In the age of visual culture harvested by the instant realization of data and images on display, his artwork optically appeals to our sensation with an assemblage of vivid colors and strange shapes. His work incorporates with a piece of wood and acts of different techniques to crop, scrape, sculpt, polish, and layer with liquid to drip and such patient application reflects on the contemplation of the artist over his ongoing research and exploration in the art form of sculpture that Buddha statues exemplify. In the light of the accelerated development in technology, where a 3D printer is now enabling to produce a three-dimensional figure, his artwork stands in the reversal position rather primitive, yet represents the accumulation of various memories, time, and ethos when he confronts with materials.
In this exhibition, Takayama portrays the floor in the gallery as the field of "Open Space," where various persons assemble and reveals a new body of diverse artworks: sculpted head statues, relief works, woodcut prints of the artist's portrait, and collages. All are essentially translated from a realm in his long-term search between one's seeing and perception with a challenge to reconsider the sculpture to define in the time of such a question being discussed.
---
"The spring breeze touches my back to turn around, and I see people chatting, lying on the ground, playing with a jump rope, getting soaked in the rain, walking a dog, kissing, traveling from foreign countries, commuting from afar, living on the street, birds, and cats.
Open Space was filled with diverse participants to enjoy.
That moment was almost déjà vu, or reunion, or just a sign.
13 years passed after I got out of the school, and I still keep up myself with creating sculpture. At last, for 10 seconds or so, I felt positive and liberated (Maybe for the first time).
Next to me, a mole finished digging a hole with a piece of trash in his mouth, and showed his face.
Time to go back to work.
Sometimes I feel blocked when walking down on a road with no sign, but I could keep my way going with more time like this." 
-Yosuke Takayama 
---