Nikasan / Arata Mino
Performance
Exercise of Falling Well
Friday, August 2, 2019 - Sunday, August 4, 2019
---
August 2 (Fri)   20:00
August 3 (Sat)  20:00, 24:00 – approx. 5:00 (August 4) *with special events
August 4 (Sun) 14:00, 17:00
* All-Night special events:
The talk session will be joined by Ryuta Ushiro from Chim↑Pom, Osamu Matsuda, Hiroki Yamamoto, and Ippei Suzuki along with the live-act presented by Shohei Amimori, Yusaku Arai, constellation botsu, takao, Itsuki Doi, and Tomohito Wakui.
※ Running time is approx. 75 minutes. (Except the 2nd performance on August 3.)
※ Same-day tickets are available from 45 minutes before, and the door to the floor opens 30 minutes before the permanence starts. For the 2nd performance on August 3 only, Same-day tickets are available from one hour before, and the door to the floor opens 30 minutes before the performance starts.
※ Japanese only
– Ticket on Sale –
Tickets are available at peatix.
Adv. ¥3,000(Door ¥3,500)
Adv. ¥4,000(Door ¥4,500)with 1drink for the 2nd performance on August 3.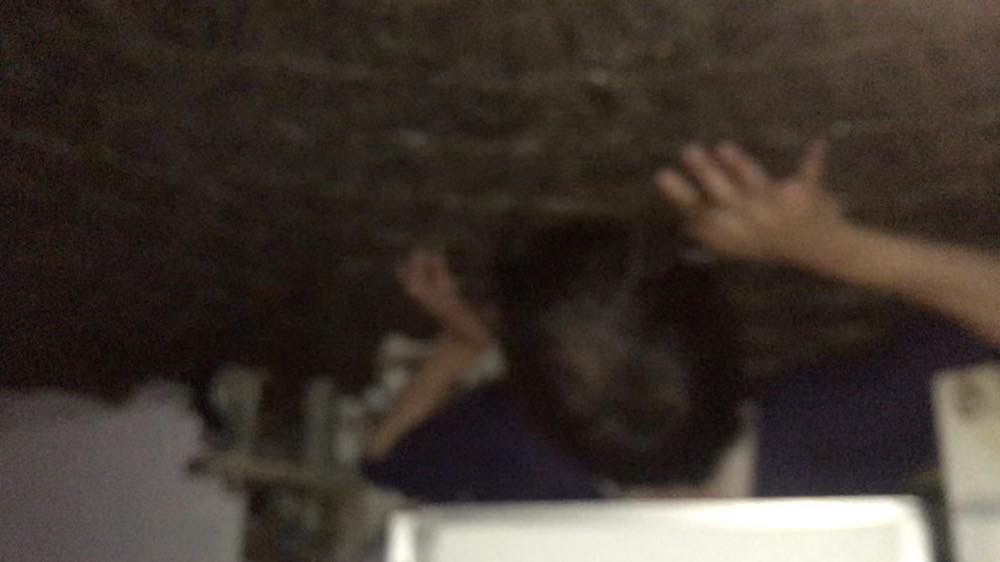 ©Arata Mino
"Exercise of Falling Well" origins to Mino's solo performance previously showcased at the 14-day event, "Ningen Restaurant," organized by Chim↑Pom in October last year at the former Kabukicho Book Center in Shinjuku, Tokyo. It is also based on the Mino's personal experience that he has witnessed a suicide scene where a person jumped off a building in the Kabukicho district, and repeatedly he encountered such accidents for multiple times.
In the face of 2020 Tokyo Olympics, Mino analyzes that the scenery in Tokyo became extremely "homogeneous" and the re-development is reaching its peak, while he continuously examines his artistic expression to intervene in such rapid change in the scenery employing the format of performing art.
The special all-night live acts and a talk marathon will take place after the 2nd performance on August 3.
In the fictional world where human beings face to extinct in the end, "we" are always preoccupied with the idea on "how we should immediately die?"
"The exercise ground for falling," a park that promotes healthy life runs everyday and operates in a "clean and safe" environment surrounded by the fence with non-stop relaxation music.
"She" couldn't fall down well, so "her breathing" was never heard by anyone.
Even "I" am the last person to exercise, it's my duty to keep it going.
As we continue to "Exercise of Falling Well," what inhabits in our boby, and what falls down in the end?
Arata Mino
---
Nikasan/Arata Mino
1987 Born in Fukuoka, Japan. Artist, Photographer, play writer. In 2010, Mino united the Hippie-b, a theater company that seeks the relationship of photography and physical expression. He works as a photographer, designer, and director in this company. "Vision 'A'", performed in 2011 was an expression of unique harmony of actors, languages, and photographs. In "Happy map" in 2012, he presented his photography trip to Fukushima, and created a space that evokes a sense of the imagery by the use of stereo photography."Backside of Head" was produced in the same year, and it made people think about the significance of photography itself, by showing the process of taking a picture. He has also presented photographs about "drama" for each works of Hippie-b.
---
Concept / Photography |Arata Mino
Directors |Arata Mino and performers
Performers |Shiho Fukasawa, Reiko Kikuchi, Yamato Fujiie, Kiichi Tachikawa
Costumers |PUGMENT
Stage Design |Kenta Nishimura
Music and Sound Editor|Tomohito Wakui
Art Direction / Design|Shun Ishizuka
Assistant Directors|Yuki Nakaya, Kota Shiga
Assistant Stage design|Takahashi
Production management surport|Satomi Shimizu
Original |Writing "Film," "Bless" by Samuel Beckett
Supported by Arts Council Tokyo (Tokyo Metropolitan Foundation for History and Culture)
Produced by Nikasan / Arata Mino
Special thanks to Nuthmique, ANOMALY
---
Contact for further information: NIKASAN
Mail : info.nikasan@gmail.com
TEL : 080-1168-3041
Access & Contact: ANOMALY