Sawako Goda
Solo Exhibition
Saturday, April 20, 2019 - Saturday, May 25, 2019
---
Opening reception: 18:00 – 20:00 Saturday, April 20, 2019
Gallery hours: 11:00-18:00, 11:00-20:00 (Fri)
in cooperation with Jiro Miura Gallery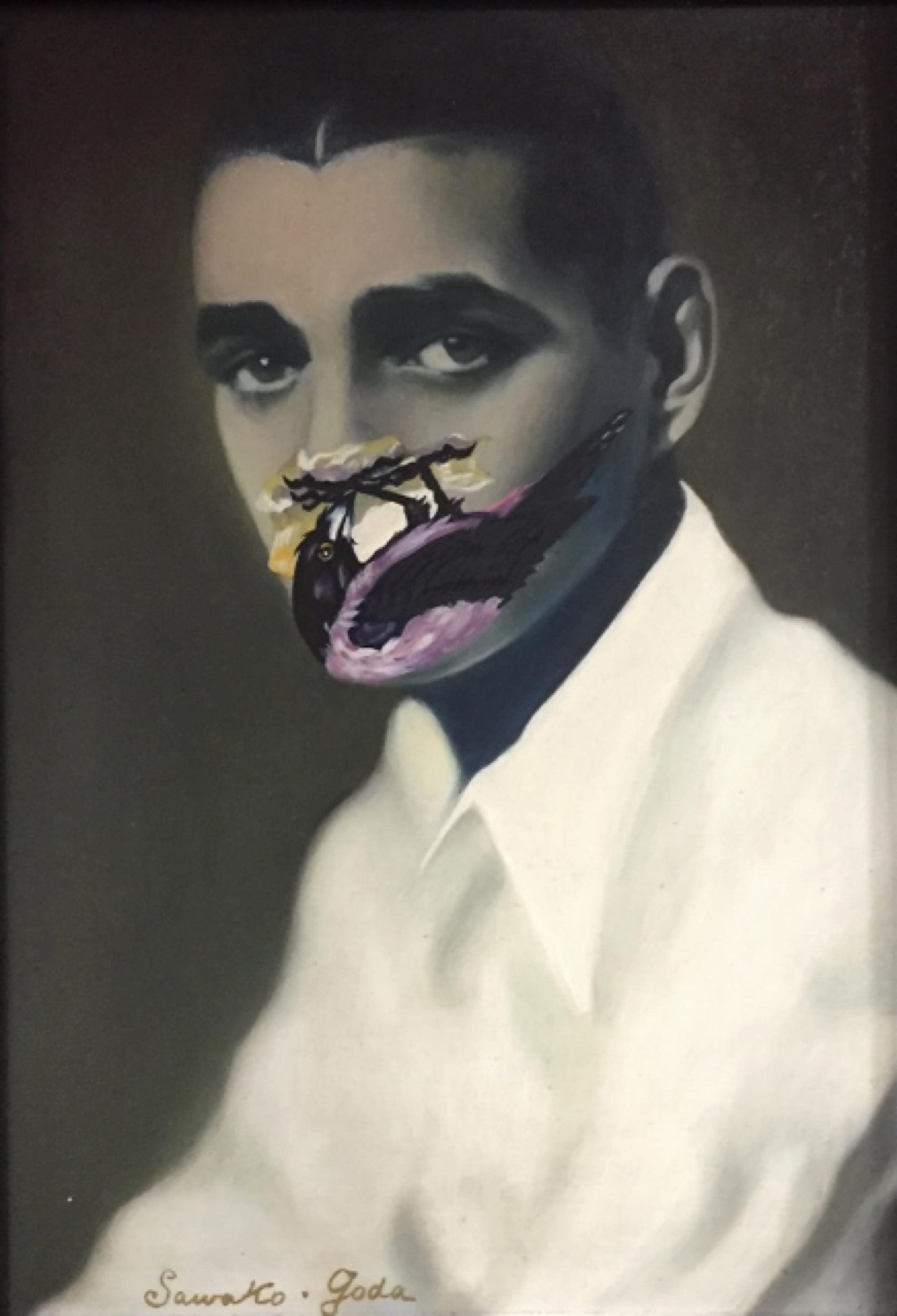 ANOMALY is pleased to announce our upcoming solo exhibition by Sawako Goda, at our viewing room. The exhibition will commence on April 20 and continue until May 25.
Born in Kochi prefecture in 1940, Sawako Goda began showing a keen interest in beauty of form at an early age. Along with stones, shells, bones, and other natural objects with peculiar shapes, she used to collect pieces of debris such as metal fragments and clocks that had been melted in fires after air raids and lost all use and meaning from districts that had been devastated during the war. She entered Musashino Art School (the current Musashino Art University) in 1959. Upon her graduation in 1963, she began taking a hand in activities such as stage design and publicity for the Jokyo Gekijo (Situation Theater) company led by Juro Kara and the Tenjo Sajiki troupe led by Shuji Terayama.
In 1965, she started holding solo exhibitions, which initially consisted of three-dimensional works. She began producing paintings around 1971 and staging exhibitions of Polaroid photographs in 1981. Her diverse artistic activities led to her selection for the First Contemporary Art Festival, titled "Shuzo Takiguchi and Postwar Art," held in 1982. Subsequently, she staged a solo exhibition at Shibuya Parco in 1991 and remained in varied activity.
She was featured in exhibitions in contexts that virtually demanded a visit by cinephiles, as exemplified by that titled "Yasumasa Morimura and Sawako Goda" at the Museum of Art, Kochi in 2001. These were followed in 2003 by another solo exhibition at the Shoto Museum of Art in 2003. She continued to be vigorously active as an artist until her death in 2016. She had ties with numerous artists who symbolized their times, including Tomio Miki, Yoji Kuri, and Yukio Ninagawa as well as Kara, Terayama, Takiguchi, and Kunio Iwaya. It is not hard to imagine that, for them, she was akin to the muse of her day.
Goda moved to Egypt in 1985, but returned to Japan the next year. A spiritual inspiration she received around 1988 prompted her production of many automatic drawings. As her absorption with automatism intensified, she was institutionalized in 1989, but stayed active even after her discharge, lecturing at workshops in the Setagaya Art Museum and handling advertising art for Kara's troupe. In addition, in 2001, she debuted a new work, "Rosetta Galaxy," at the aforementioned "Yasumasa Morimura and Sawako Goda" exhibition at the Museum of Art, Kochi in 2001. As this evidences, she continued to create works and participate in exhibitions even in her later years.
As Goda herself said, the term "lens effects" can be applied in descriptions of her works. In praising her art, Iwaya commented, "The types of optical devices changing reality into 'surreality' using a lens actually also include the human eye." (*1) Goda met Iwaya several times over the period of 10 plus years until her death, and noted that, every time they met, they would talk about eyes.
In view of lens effects, one can also understand the comment on her works by the photography critic Yuri Mitsuda: "The portraits are subjects ensouled by light purified by passage through crystal, opal, and gems" (*1). Many of the paintings Goda produced are portraits of people, many of whom are movie stars. These celebrities are deformed existences who have been utterly consumed by the mass media. Mitsuda goes on to speculate that, in making their portraits, Goda intuitively sensed their deep wounds beneath the surface.
The photographs of celebrities taken with glaring studio lighting are retouched with sophisticated technology before printing, and are not faithful depictions of their subjects. The process of such conversion artificially transforms the images into new ones that are distanced from the actual subject but charged with an energy of their own. For Goda, they had an appeal that was painfully poignant, and sublimated by her esthetic sense and painting skills.
In her comment on Goda's paintings of stage and screen celebrities, writer Masako Bando mused, "I think she continued to paint stars of the silver screen now in the world of death out of a desire to expose the true nature of what had brought death to Japan" (*2). Goda was always with photographs, which are products of light, and this stance of hers seems to extoll an eternal vulnerability.
Apart from realistic portraits of human subjects exposed to polarized light, Goda was fond of painting roses. Her series of such paintings conveys a quiet intensity suggestive of what lies in the deepest recesses of the rose petals wafting the imagination to the end of the universe, or what may even be termed the "world beyond." Goda stated that the portraits with aurora-like coloring and rose paintings apply phenomena induced by plasma particles.
Plasma is a fourth state of matter, following those of solids, liquids, and gases. In the natural world, it is connected with lightning, the sun, and even the flames of candles, for example. Because of the rise in the temperature of matter along with its combustion, the burning matter itself is said to ionize and take the form of plasma. To be sure, many colors that call to mind plasma discharges appear in Goda's paintings. Any discussion of her works would have to take up plasma as an element at the foundation of her distinctive coloration, like polarized light in her photographic portraits of movie stars.
Of the works in various media making up Goda's corpus, this solo exhibition will center on the iconic oil paintings and drawings of movie stars and eyes that she made during the significant decades from the 1970s to the 2000s.
---
(*1) "SAWAKO GODA" Heibonsha, 2017, pp. 2-3, 6-11
(*2) "YASUMASA MORIMURA & SAWAKO GODA" The Museum of Art, Kochi, 2001, pp. 106-109
Biographical reference: "Sawako GodaーSchattenbild 1958-2003" The Shoto Museum of Art, 2003
---