Tatzu Nishi
Solo Exhibition
The Real Reasons for Unbreakable Habits and How to Deal with Them
Saturday, January 25, 2020 - Saturday, February 22, 2020
---
Talk session: Tatzu Nishi × [mé](Haruka Kojin, Kenji Minamigawa)
2020/02/15 (Sat)
Open at 18:00 / Start at 18:30 –
Admission fee: ¥500 – / Please Register here
Capacity: 50 seats
Saturday, January 25, 2020
18:00 – 20:00: Reception for the artist (finished)
20:30 – :After party + Burlesque *Reservation required
Gallery hours: 11:00-18:00, 11:00-20:00 (Fri)
Closed on Sun., Mon., and National Holidays
*We will open at 11:00 – 18:00, Sunday, February 16.
Supported by COLOR SCIENCE LABO CO.,LTD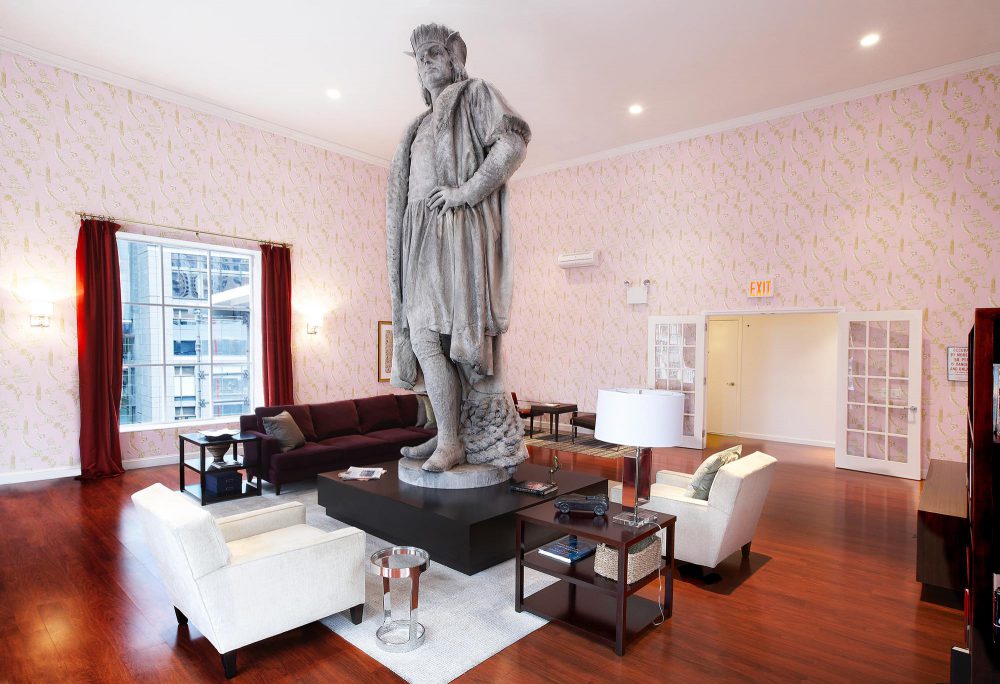 Discovering Columbus
"TATZU NISHI Discovering Columbus" Installation view at Columbus Circle, New York, 2012
Photo by Go Sugimoto
© Tatzu Nishi
Taking space outside the "white cube" as the main stage of his activities, Tatzu Nishi strives to dissimilate our world with the sudden appearance of private space in locations of a highly public nature. Under the watchwords "humor, violence, and sexiness," he adopted the model of strictly temporary public art beginning in the late 1990s and has since stayed in the vanguard of the times, setting forth new artistic directions. He has made seemingly impossible ideas possible with street art that differs completely from graffiti-like street paintings, and this will be his first show in a gallery in about 10 years.
Titled "The Real Reasons for Unbreakable Habits and How to Deal with Them," the exhibition will be held at ANOMALY from January 25 to February 22, 2020. 
Tatzu Nishi dynamically dissimilates familiar sights and scenes by shifting their context. For example, he may construct rooms that incorporate a local monument or streetlight right into the installation, transforming it into a living room or hotel room that is then actually offered for booking. He has produced many large-scale projects that easily overturn our entrenched ideas.
Tatzu Nishi has essentially brought what is private into a public venue, thereby smashing everyday outlooks and compelling an inversion of values. In "The Real Reasons for Unbreakable Habits and How to Deal with Them," however, his practice is the opposite, in that he brings things that have an outdoor or non-artistic context into the indoors (i.e., the peculiar space that is an antiseptic gallery).
Wielding amazing technique, Nishi positions various everyday objects and tools that are ordinarily not seen in gallery space in a "white cube." His grand vision transcends established concepts of all stripes and creates a distinctive space that could even be described as "umheimlich."(*1)
These objects may be exemplified by a large and heavy tree that was hard to haul into the gallery, fragments of a vehicle that should be running down roads, and furniture and electrical appliances from home. All sorts of such everyday articles reveal their otherness when they are deprived of their usual context and set up in the space of a gallery.
While representing the local culture, the articles in the assemblages put together by Nishi do not appear to have been chosen on the basis of any particular perspective or preference. Brimming with surprise and humor, they are at the same time colored by a cold objectivity, and leave all meaning suspended in mid-air. By ignoring their proper use, the artist restores the articles to their essential state as objects and throws their inherent form and shape into sharp relief.
Nishi is a titan who reduces and converts the meaning of things so that we can see them as they really are, full of wonder. The sight conveys a feeling of otherness that can be shared by all people, regardless of their culture, and dramatically amplifies our powers of imagination.
---
Tatzu Nishi was born in Aichi Prefecture in 1960. After studying at Musashino Art University, he went to Germany in 1987 and studied sculpture at the Kunstakademie Münster. In 1997, he began to produce large-scale projects mainly in public space. At present, he is based in both Berlin and Tokyo, and engages in artistic activity while going back and forth between the two cities. Even his name as an artist has frequently changed; besides his real name, he has used the names Taturo Atzu, Tatzu Nishi, Tazu Rous, Tatzu Oozu, Tatsurou Bashi, and Tazro Niscino. He is a rare artist with a diversity of faces whose constant displacements defy a "deja vu" familiarity.
Tatzu Nishi's main exhibitions were as follows: Yokohama Triennale (2005), "Ecstasy" (2005, Museum of Contemporary Art, Los Angeles), "Chéri in the sky" (2006, Ginza Maison Hermes, Tokyo), Kaldor Art Projects (2009, Sydney), Aichi Triennale (2010), and Manifesta 10 (2015, State Hermitage Museum, Saint Petersburg). His major projects in recent years were "The Merlion Hotel" (2011, Singapore), for which he built a hotel room containing the iconic Merlion statue as part of the Singapore Biennale 2011; "Hotel Ghent," another hotel project incorporating the clock tower of the central station as part of the "TRACK" exhibition (2012, Ghent, Belgium); and "Discovering Columbus" (2012, New York), which transformed the space around the statue of Columbus in Manhattan into a living room. He has won international acclaim for his large-scale projects involving symbols of the country and/or city in question.
In spite of his continued creation of works that are not necessarily welcomed by the administrative authorities, he was selected for the Minister of Education, Culture, Sports, Science and Technology's Art Encouragement Prize in fiscal 2017.
Later in the same year, Nishi participated in the ambitious "Beppu Project" (in the city of Beppu, Japan), which consisted of four big outdoor installations and nine photos, and followed this in 2018 with "A Doll's House," an immense doll house that was installed at the entrance to the venue for the "Enfance" exhibition at the Palais de Tokyo (in Paris). Unveiled under the name "Amabouz Taturo," this latter work evoked a huge reaction and solidified recognition of the artist under this sobriquet.
(*1)unheimlich:
– "Heimlich" is a German adjective that literally means "home-like" and refers to things that are secret or intimate. "Unheimlich," its negative, is applied to the emergence of something that is eerie or had been unseen.
The Real Reasons for Unbreakable Habits and How to Deal with Them
I first showed an outdoor work in Germany, where I live, 22 years ago. Ever since, I have exhibited art only outdoors and worked hard in activities aimed at breaking down conventional outlooks while presenting new views of the world at the same time. I did not want these activities to be confined entirely to the art scene; I wanted to explore the possibilities of art among the general public who are ordinarily not particularly interested in it. The interiors of movie theaters and museums are not the only places that stimulate people's imaginations, which must be available in their daily lives. Without powers of imagination, none of us would be able to think about our own future. Opportunities for exercise of the imagination are therefore indispensable for living and must be ensured. 
For these reasons, I have preferred outdoors to indoors, and particularly locations on city streets, as the venues for showing my works. I broke out of the narrow and boring world of the art scene, and had shows at galleries only about three times. This time will be my first solo exhibition in a gallery in about 10 years.
For the ANOMALY exhibition, I am doing the opposite of my normal approach of displaying indoor trappings outdoors. More specifically, I am preparing indoor displays of works that I made with materials from outdoors. By so doing, I hope to link the closed space of the gallery to the outside. I am also showing works made with items around me that have not changed since my debut, in order to bring opportunities for thinking about art into the everyday life of the viewers. This is also bound up with one of the basic concepts behind my works, namely, the reversal of outdoors and indoors, and of the private and the public. The intent is the same as that of showing works outdoors, i.e., to thrust art into daily life.
In my view, to inflate powers of imagination is the raison d'être of art in humanity. The amplification of these powers on the level of individual people exerts an influence on communities and countries, and may even determine the path to be taken by humankind in the future. In this sense, art really does have the power to change the world. I have been a dreamer since my childhood, and perhaps am dreaming even now.
Tatzu Nishi
December 2019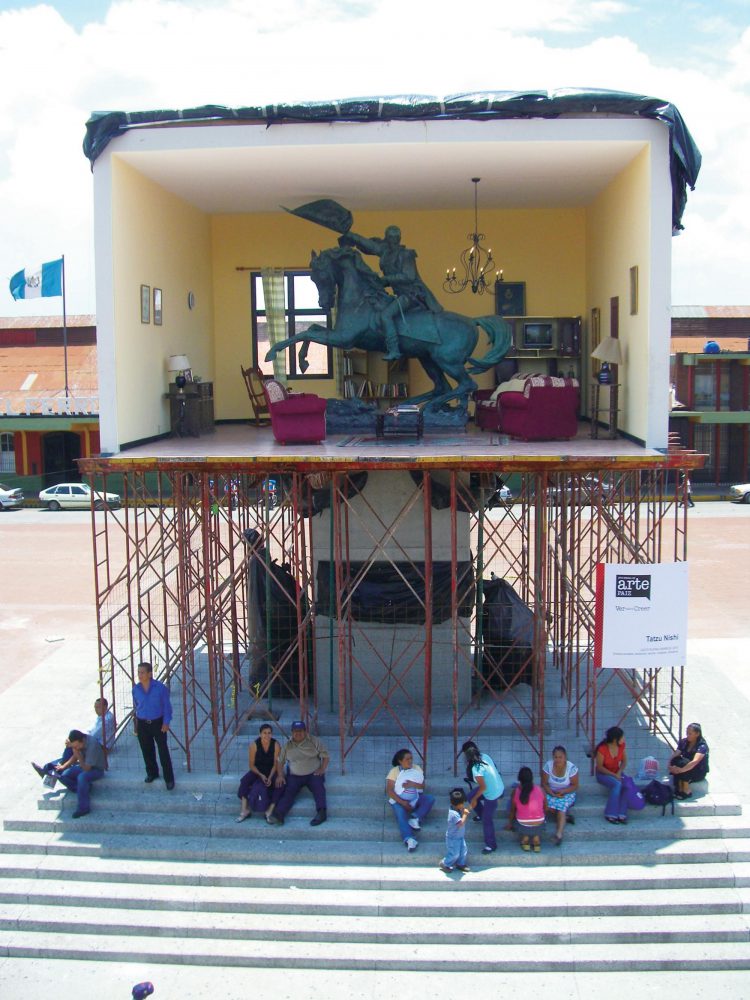 Héroe
"La Bienal de Arte Paiz – Héroe" Installation view at Guatemala City, Republic of Guatemala, 2010
© Tatzu Nishi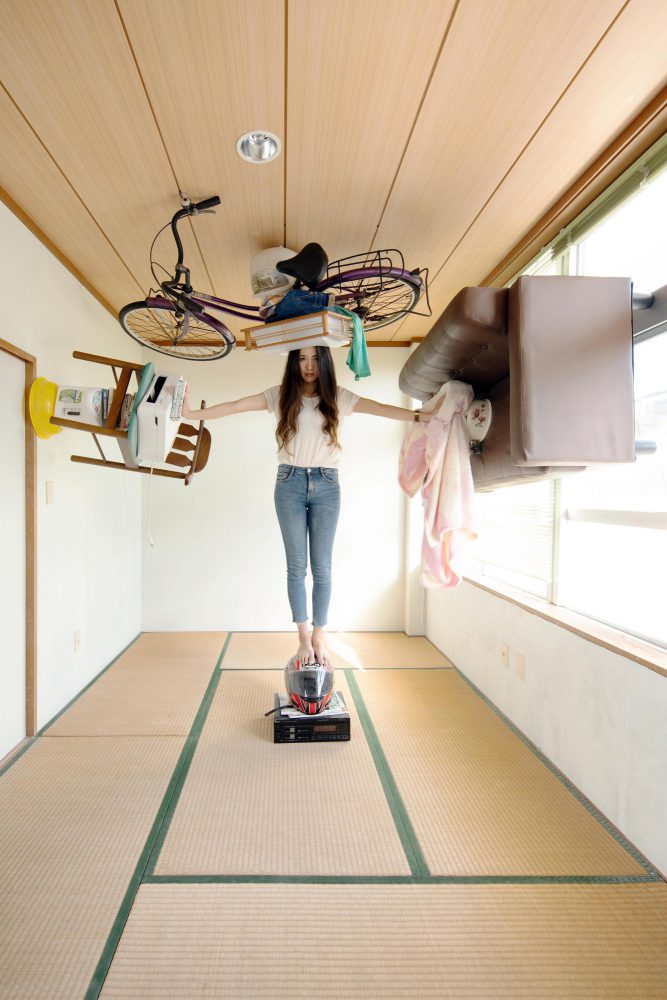 Venus
2019, Chromogenic print, H160xW106.6cm (Available in smaller sizes)
© Tatzu Nishi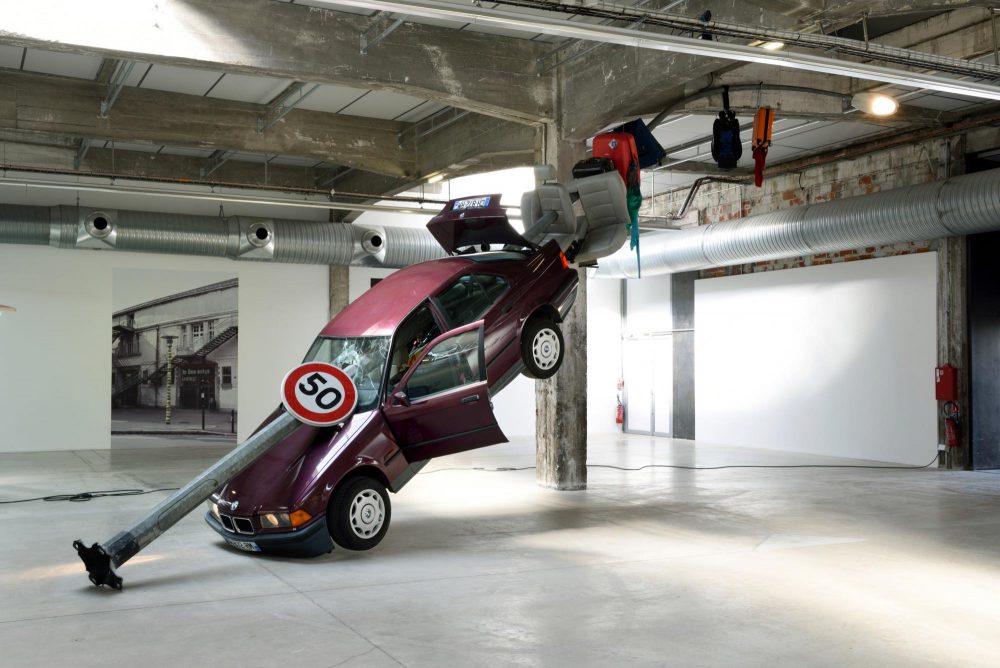 "Solo Group Show – Taturo Atzu, Tatzu Nishi, Tazu Rous, Tatzu Oozu, Tatsurou Bashi, Tazro Niscino"
Installation view at HAB Galerie, Nantes, France, 2015
Photo by Bernard Renoux
© Tatzu Nishi


A Correnteza de Modernização
"BHÁsia — Câmbio Cultural" Installation view at Belo Horizonte, Brazil, 2013
Photo by Joana França
© Tatzu Nishi

---
---