Talk Event:Yukinori Yanagi × Mami Kataoka (Director, Mori Art Museum)
Date: Saturday, April 3, 2021
Time: 15:00 – 17:00
Language: Japanese
Admission: Free
Capacity: 35 (Register here)
Venue: ANOMALY, Tokyo
*Thank you for your registration and this is a sold out event. (2021.3.27)
*In preparation for the event, the exhibition space will close at 2pm. Please visit us early to see the exhibition.
*We will start accepting pre-orders for the artist book "Wandering Position 1988-2021" from April 3rd.
Please ask for more information at the gallery reception.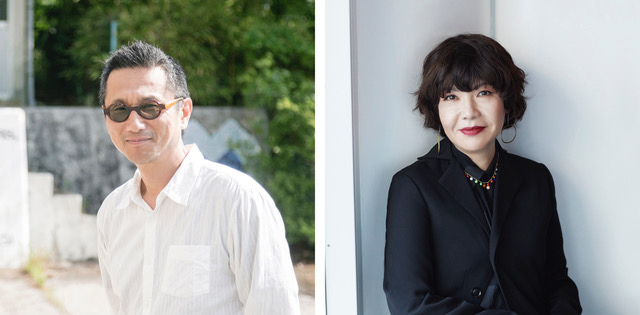 Photo by Roudo Izumiyama (Left: Yukinori Yanagi) / Akinori Ito (Right: Mami Kataoka)

Speakers:

Kataoka Mami (Director, Mori Art Museum)
Kataoka was Chief Curator at Tokyo Opera City Art Gallery (1997-2002) prior to the Mori Art Museum (2003-) where she holds the current position since 2020.
Kataoka was also International Curator at the Hayward Gallery, London (2007-2009); Co-Artistic Director for the 9th Gwangju Biennale, South Korea (2012); Artistic Director of the 21st Biennale of Sydney (2018); and Artistic Director of the Aichi Triennale 2022. She has been serving as a Board Member of CIMAM [International Committee for Museums and Collections of Modern Art] (2014-) and currently the President of CIMAM 2020-2022. Chair of Contemporary Art Committee Japan, Art Platform Japan [Initiative by the Agency for Cultural Affairs, Japan]; Councilor of Tokyo Council for the Arts [Initiative by Tokyo Metropolis, Japan]; and Member of AICA [International Association of Art Critics]. Visiting Professor at Kyoto University of the Arts Graduate School; Visiting Professor at Tokyo University of the Arts' Faculty of Fine Arts, Graduate School of Fine Arts. Kataoka frequently writes, lectures, and juries on contemporary art from Japan, Asia and beyond.

Yukinori Yanagi (Artist)
From 1986, Yanagi began to exhibit artwork such as those using ants and soil balls that represent dung beetle rolled balls, addressing the issues of "movement" from the perspective of an outsider of the art world's system. He moved to New York and started to work internationally after being awarded the Aperto Award at the 45th Venice Biennale in 1993. Yanagi's works were in numerous international exhibitions including Bienal de São Paulo (Brazil) in 1996, la Biennale de Lyon (France) in 1996, and Whitney Biennial (U.S.A) in 2000. In 2008, he completed his long-term project, "Inujima Seirensho Art Museum" in Okayama. In 2012, he founded ART BASE MOMOSHIMA, an art center located in a former junior high school building on a remote island MOMOSHIMA in Onomichi city.
His recent projects includes a solo exhibition "Wandering Position" at BankART1929 (2016) and large-scale site-specific works at the 21th Biennale of Sydney. (2018)

Tags: Yukinori Yanagi