Miyuki Tsugami
Solo Exhibition
Therein, Nothing - Just Precious Trifles
Friday, November 22, 2019 - Saturday, December 21, 2019
---
Reception for the artist: 18:00 – 20:00, Friday, November 22, 2019
Talk session: Chihiro Ichinose (photographer) × Tomoyo Sanbonmatsu (Curator) × Miyuki Tsugami
Saturday, December 7, 2019
Open at 17:30/Start at 18:00 – 19:30
Admission fee: ¥500- (1drink included) / Please Register here
*Japanese only
*Registration required.
Gallery hours: 11:00-18:00, 11:00-20:00 (Fri)
Closed on Sun., Mon., and National Holidays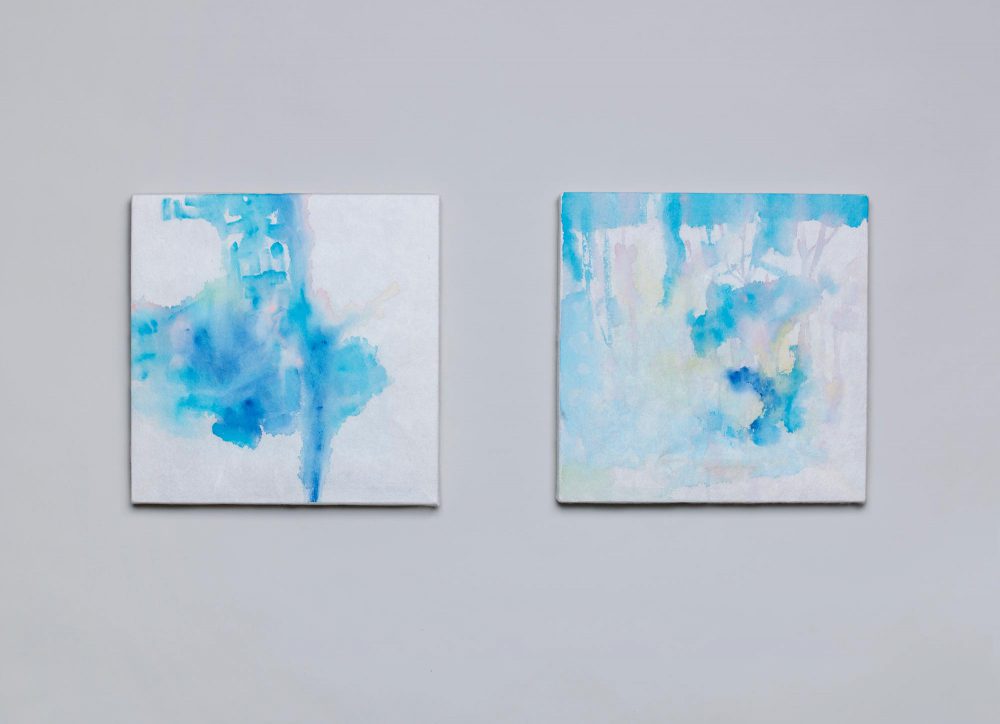 View, a cherry tree, spring, 2019
pigment, acrylic and watercolor on japanese paper, H23×W22.7cm each
©︎ Miyuki Tsugami
We are pleased to inform you that ANOMALY will be holding a solo exhibition of works by Miyuki Tsugami titled "Therein, Nothing – Just Precious Trifles" from Friday, November 22 to Saturday, December 21.
Born in 1973, Miyuki Tsugami was awarded a master's degree in fine art from the Kyoto University of Art and Design in 1998. Her major solo exhibitions include "24 Seasons – Passing Sceneries, Connecting Minds" (2008, Spiral Garden, Tokyo), "View – Trace and Reprise" (2013, Ichinomiya Memorial Art Museum of Setsuko Migishi, Aichi), "Landscape of Time, Connected Time" (2016, Pola Museum Annex, Tokyo), "Landscape of Time, Piled Time" (2016, Gallery Hashimoto, Tokyo), "Contemplation of Time" (2018, The Ueno Royal Museum Gallery, Tokyo), and "View – People and Landscapes" (2019, Nagasaki Prefectural Art Museum, Nagasaki). In recent years, she has taken part in group exhibitions including "Paintings Here and Now" (2018, Fuchu Art Museum, Tokyo), "Beyond the Visible" (2019, The Museum of Modern Art, Hayama, Kanagawa), and "Observation – Artists Confronting the Wonder of Looking Intently" (2019, Gunma Museum of Art, Tatebayashi, Gunma).
As for major awards and selection for residency programs, she resided in New York upon her selection for the 7th Sekiguchi Art Foundation Award in 1996, was given the Vision of Contemporary Art (VOCA) Award in 2003, and held a solo exhibition in Kurashiki, Okayama Prefecture of works she produced during a period of residence there after her selection for the 1st ARKO (Artist in Residence Kurashiki, Ohara, Ohara Museum of Art) in 2005. She received the Kyoto City Artistic New Comer Award in the same year, and resided in London following her selection for the Award of the 25th Rookie of the Year of the GOTO Memorial Foundation in 2013. In 2015, she resided in Berlin and Prenzlau with the support of the Agency for Cultural Affairs, POLA Foundation, Asahi Shimbun Foundation, and Nomura Foundation, and held a solo exhibition titled "TSUGAMI Miyuki: Japanese Landscapes – Uckermark Landscapes." In 2016, she resided in Kitakata, Fukushima Prefecture under the Kitakata Yume Art Project, and held a solo exhibition of works she produced there.
Tsugami continues to produce distinctive landscape paintings whose titles are crowned with the word "view". She broadens perspectives in painting around this word, which can refer not only to objective sights and scenery but also subjective outlooks and thinking.
Her creations begin with sketches made in a notebook measuring 14 by 9 centimeters. Sketching became part of her daily routine as an outgrowth of her residence in the city of Kurashiki (under an artist-in-residence program sponsored by the Ohara Museum of Art in 2005), where she constantly worked with only natural light, in the absence of electrical equipment. She sketches a variety of things, and the direction of her gaze to actual subjects existing on the same horizon as herself is perhaps the only trait they have in common.
There arises the question of just what the act of seeing is. Tsugami similarly asks herself what it is she paints, why she got the impulse to sketch it, and what comes into view once the sketch is done. Her creative process begins with seeing, followed in order by sketches, studies, and painting. To her, it is only really completed when the works are viewed.
Arranging her thoughts while producing repeated studies, upon repeated contemplation of these questions, she makes in-depth examinations of the lines, points, colors, and other elements that comprise paintings. The works before our eyes could be regarded as sedimented aggregations of the artist's gazings, speculations, and time, in the present or present progressive tense.
When only religious or historical paintings were considered genuine paintings, artists who went outdoors and painted landscapes or the everyday manners of their times were reportedly shunned. People did not think that their output was art. There was an absolute divide between inside and outside, and sacred and profane. It could also be termed a massive wall erected by people who believed they understood art and how it should be received. Nevertheless, that culture is also to be found in everyday affairs ≒ activities of ordinary people may have been one of the factors that led to general recognition of landscape paintings.
In 2019, Tsugami was blessed with numerous opportunities for exhibition. Specifically, she participated in group shows at The Museum of Modern Art, Hayama, Kanagawa; Gunma Museum of Art, Tatebayashi; and Taipei Fine Arts Museum; held a solo exhibition at the Nagasaki Prefectural Art Museum; and had shows at galleries as well. Over the space of a year, she was additionally given the rare opportunity to make periodic visits to Nagasaki for on-site sketching as part of her production of illustrations for a serialized novel* based on historical events. This assignment prompted her to rethink her approach to landscape painting. She engaged in a multifaceted collection of information at various sites, and densely integrated it into paintings as media of purely visual information. The numerous resulting works bred dialogue through layering with the landscapes in the minds of their viewers.
Tsugami's inside and outside (the studio where she paints, the different places in which she resides) are bridged by the act of seeing, and may even be interpreted as an expansion upon the road that landscape paintings have continued to travel for hundreds of years. "View, the passage of time, Nakashimagawa River, 1:10 pm 8 Oct 18/2019," a work that is all of six meters long and was shown at the Nagasaki exhibition, was painted by Tsugami after witnessing  Nagasaki Kunchi, a grand festival that has been held since the Edo period. Besides capturing the bustling streets and excited crowds, it overlays the long stretch of time during which the festival took root as part of the culture of this area. Then there is the new series of works including "View, a cherry tree, spring, 2018," which depicts a cherry tree on the grounds of Tsugami's studio that she has often taken as a motif. Standing there the same as ever, the tree is also a kind of compass for Tsugami as she continues to probe the act of seeing.
Just like people, landscapes have a being that constantly changes within the eddies of time. Tsugami gazes at this change and sublimates it into paintings. From them, we may be able to find a certain viewpoint within ourselves.
* "Goodbye," by Asai Macate, serialized in Asahi Shimbun in 2018.
Over there is nothing
Over there, just trifling things but precious
Vision receives
Hearing recognizes
Winds border space
Each passing interlude, each passing day
Fragile, beautiful
Continuing dialogue
Barely managing to form an image
On the branch of a tree, a bird alights, chirps, and flies off
Impossible to grasp any meaning or reason behind it
And yet I try to see
The phenomena constantly arising
Replacing them with color and shape – the stuff of paintings – in my mind
Daubing them onto flat paper
Although everything before my eyes
Is like smoke
Miyuki Tsugami
October 7, 2019
In addition to "View, the passage of time, Nakashimagawa River, 1:10 pm, 8 Oct 18/2019," which was first shown at Tsugami's solo exhibition in the Nagasaki Prefectural Art Museum, this exhibition will display about 20 works, including some newly created ones.


View, the passage of time, Nakashimagawa River, 1:10pm 8 Oct 18/2019
Pigment, acrylic, and others on canvas, H158×W300cm each
©︎ Miyuki Tsugami
---