Kohei Kobayashi
Solo Exhibition
Z-O-M-B-I-E-T-O-W-N
Saturday, October 19, 2019 - Saturday, November 9, 2019
---
Opening talk event: Kohei Kobayashi with Asa Ito(Associate Professor, Institute for Liberal Arts, Tokyo Institute of Technology, and MIT Visiting Research Fellow)
Saturday, October 19, 2019
Open at 16:30 / Start at 17:00 – 18:30
Admission Free(Register here) 
*Japanese only
Reception for the artist: 18:30 – 20:00, Saturday, October 19, 2019
Closing performance event " Z-O-M-B-I-T-O-W-N Evening "
Saturday, November 9, 2019
Open at 18:00 / Start at 18:30 – approx. 20:00
Admission fee: ¥1,500 – (1drink included) / Please Register here
Performers:
・Kohei Kobayashi with Ikuhiro Yamagata 'Post Shaped Piggy Bank'
・honninman 'Loan of the dead'
・core of bells 'Moshing Maniac AD.2024‥‥‥5 Years After "Moshing Maniac in front of The Cultural Affairs Agency"‥‥‥'
---
Gallery hours: 11:00-18:00, 11:00-20:00 (Fri)
Closed on Sun., Mon., and National Holidays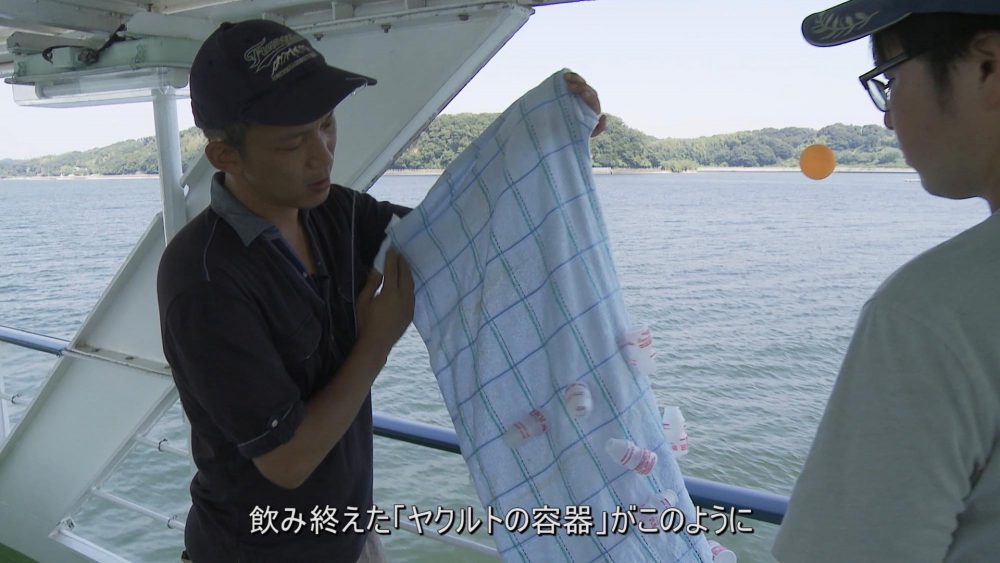 Z-O-M-B-I-E-T-O-W-N Regeneratioin
2013, Video installation, Video (13min 51sec), Dimensions variable
Filmed by Yasutaka Watanabe
©︎ Kohei Kobayashi
We are pleased to inform you that ANOMALY will be holding "Z-O-M-B-I-E-T-O-W-N," a solo exhibition by Kohei Kobayashi, from Saturday, October 19 to Saturday, November 9.
"Z-O-M-B-I-E-T-O-W-N" is a video installation by Kobayashi that was shown at the group exhibition "Humor and Leap of Thought – Far beyond our recognizable world" (Okazaki Mindscape Museum, Aichi Prefecture) in 2013, and the exhibition "1974 Part 1 – Born in 1974" (at the Museum of Modern Art, Gunma, Gunma Prefecture) in the following year. It was redone for this exhibition, which represents the first time it will be shown in Tokyo.
Born in Tokyo in 1974, Kohei Kobayashi graduated from Aichi University of the Arts with a degree in oil painting. Based in Saitama Prefecture, he currently teaches at Musashino Art University and remains extremely active in creative projects. He is attracting considerable attention both inside and outside Japan. His recent solo exhibitions include "The Lid Will Not Open, Footsteps On The Roof" (Yamamoto Gendai, Tokyo, 2015) and "Yawning – Lessons" (Yamamoto Gendai, Tokyo, 2018). He has also participated in exhibitions at various museums, such as "Artist File 2015 Next Doors: Contemporary Art in Japan and Korea" (the National Art Center, Tokyo, and the National Museum of Modern and Contemporary Art, Korea, Seoul, 2015) and "Kohei Kobayashi × Kohei Takahashi: Work on Five Hypotheses to Cut Off…" (Toyota Municipal Museum of Art, Aichi Prefecture, 2017). He additionally took part in the 2016 Aichi Triennale and the Setouchi Triennale held in the same year.
Working from texts written by Asa Ito (*1) that are full of strange trains of thought and convoluted logic as well as from his own interpretations of the same, Kobayashi created complicated installations composed of weird objects that are assemblages of everyday items, plus video footage in which he explains them. At first glance, the objects themselves, or those composing them, appear to have lost their original functions as viewed from our normal perception of them (for example, one of the objects is a wire spiral with a tennis ball skewered on each tip).
In the video, however, Kobayashi comments on a new mode of usage with a demonstration, thereby handily dismissing the original role of the article (or composite articles) and then attaching a different possibility and worth to it instead. The object is therefore presented as a new type of equipment or tool with an odd function that resulted from "reproduction." In the video, Kobayashi directs his commentary to Ikuhiro Yamagata (*2) of core of bells, but even these explanations gradually fall apart, although prompting a change of perspective and thought on the part of the viewer in the process.
The basic pattern may be exemplified by the video introducing an object consisting of empty Yakult bottles attached to a towel appearing in this "Z-O-M-B-I-E-T-O-W-N" exhibition. Kobayashi devised it based on the text Ito wrote for "turning a community into a zombie town." Because people drink the Yakult beverage to replenish their supply of body water, the body is likened to a "reproducer" ("player") object. In the installation video, Kobayashi suggests that the way in which the liquid travels through the body creates a history and record of that movement, and proceeds to demonstrate this peculiar "body as player" idea, but cracks always open up in his interpretations. In this manner, he explains ways of using various objects while engaging in dialogue with Yamagata. Their conversation gets increasingly outlandish as it goes on, and they come up with a stream of interpretations that lead the viewer to undreamt-of lines of thought on a higher order. "Inconsistencies indicate space that is not here," according to Kobayashi. They may even induce wondrous changes in how we see our world.
---
ANOMALY will hold a talk event with Asa Ito and Kohei Kobayashi on Saturday, October 19, the first day of the exhibition.
On Saturday, November 9, the final day of the exhibition, ANOMALY will hold closing events, including "Post Shaped Piggy Bank" (a performance by Ikuhiro Yamagata and Kobayashi) and a performance by core of bells.
During the run of this exhibition, the MOMAT Collection Exhibition held at the National Museum of Modern Art, Tokyo (from November 1 to February 2, 2020) will be showing "To-Kai-Do-Chu-Hiza-Kuri-Ge," one of Kobayashi's signature works enabling viewers to take a bizarre trip with him up the route of the old Tokaido post road themselves by perusing different objects.
*1) Asa Ito: Associate Professor of the Institute for Liberal Arts at the Tokyo Institute of Technology and MIT Visiting Research Fellow. Her recent publications include "The Remembering Body" (Shunjusha Publishing Company) and "The Stuttering Body" (Igaku-Shoin Ltd.) (these are tentative translations of titles available only in Japanese).
*2) Ikuhiro Yamagata: The vocalist in the hardcore band core of bells appearing in many of Kobayashi's video works. He conducts demonstrations of objects with Kobayashi.
"Z-O-M-B-I-E-T-O-W-N"
In producing this work, I asked Asa Ito to write five texts. At the stage of preliminary discussion, I merely informed her of a few key concepts that I wanted to take up this time, such as "coexistence of different dimensions" and "handling of objects and landscape as being on equal footing." I asked her to basically write that texts as works of her own.
The overall title of the completed texts was "Z-O-M-B-I-E-T-O-W-N" !
"Zombie" is not a zombie in the ordinary sense of the term. Instead, it refers to something that arises by reproducing or regenerating an object, from which it is different.
I then made objects for reproducing (bring back to life) zombies by using these texts as design drawings.
Next, I worked with Ikuhiro Yamagata in attempting to reproduce zombies in various locations from the Kanto to the Chubu region. I asked Yasutaka Watanabe to shoot the video.
The relationship among us four was premised on none of us having answers.
Ito wrote the texts connected to her theme while estimating what I wanted to do. I made the objects by way of response to her texts, framed questions, and selected the locations for shooting the video. While listening and reacting to my commentary, Yamagata also made his own interpretations of Ito's texts. Watanabe functioned as an observer second to Yamagata, and recorded our discussion with the video camera.
Differences of interpretation constantly arise among the four of us, because we use mutually different media.
Ito: Text
Kobayashi: Objects and conversation
Yamagata: Conversation
Watanabe: Video
Dialogue begins to roll when inconsistencies arise, and develops with understanding or agreement. Inconsistencies indicate space that is not here. Only then does the production of a work acquire a purpose.
Kohei Kobayashi, September 2019
< "Z-O-M-B-I-E-T-O-W-N" Text by Asa Ito >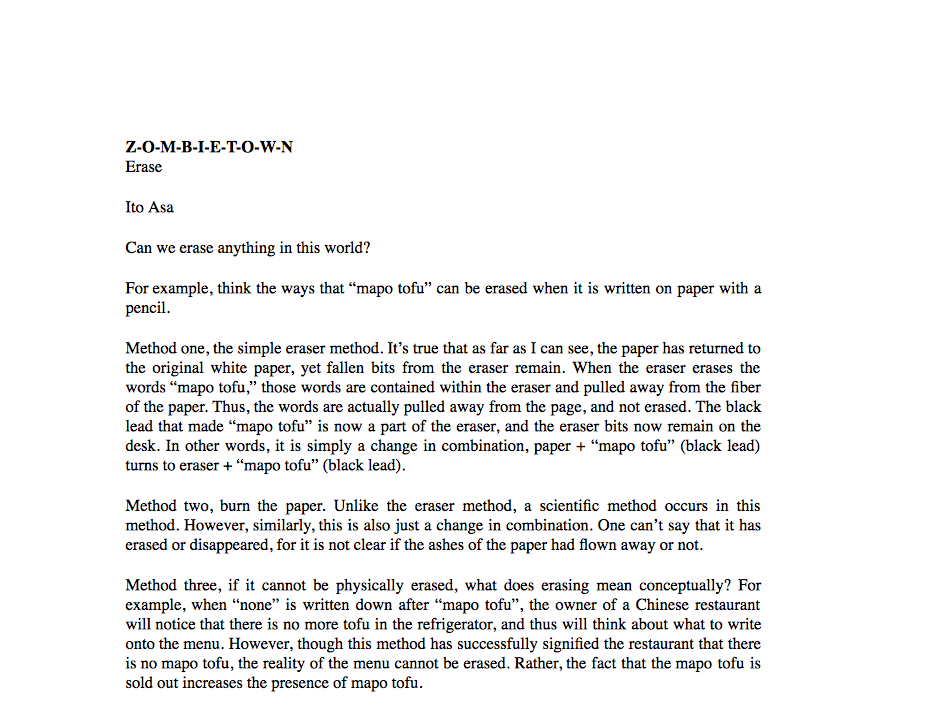 ---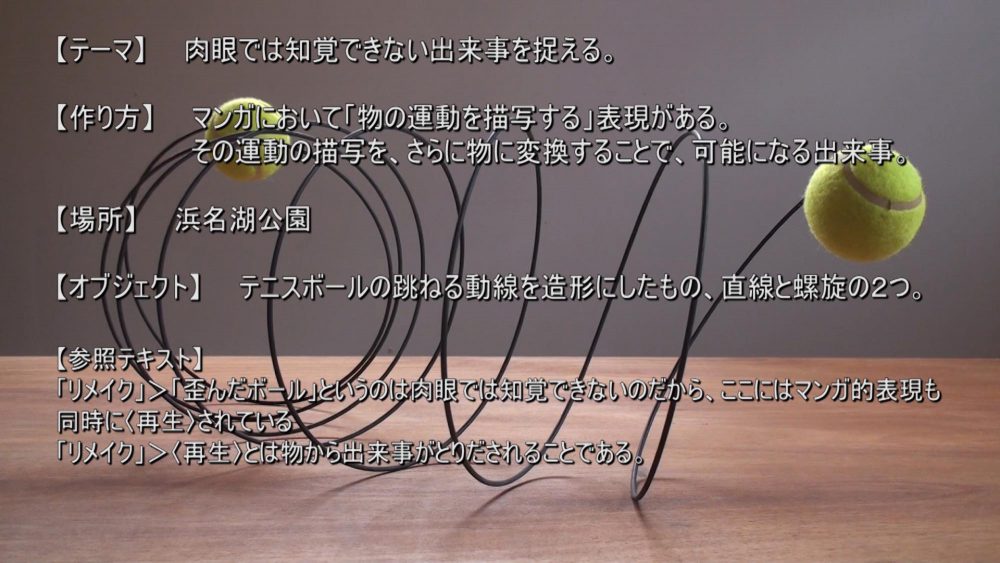 Z-O-M-B-I-E-T-O-W-N Remaking ©︎ Kohei Kobayashi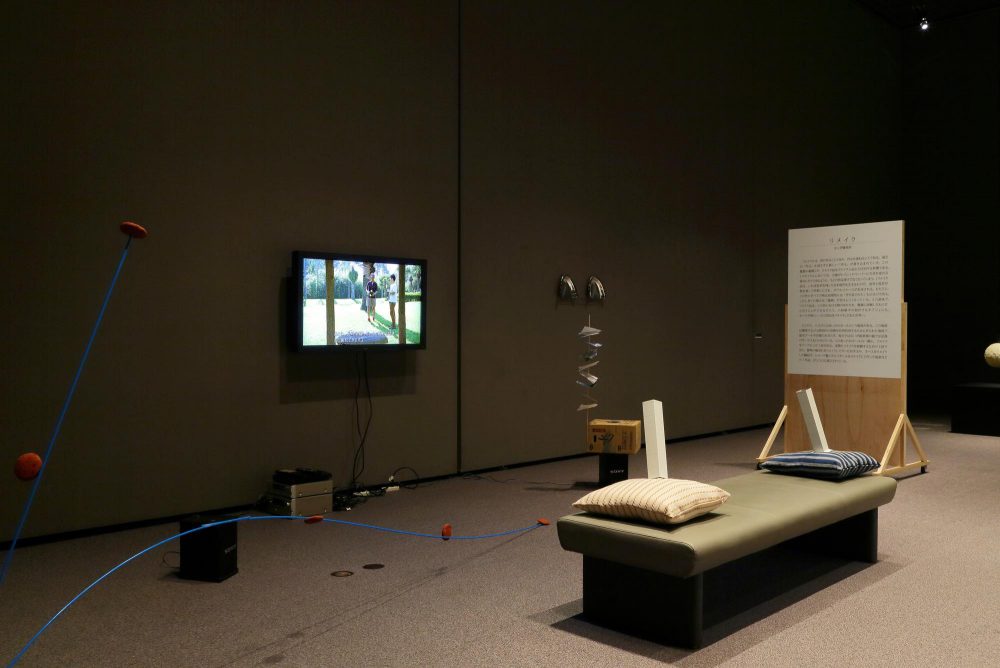 Z-O-M-B-I-E-T-O-W-N ©︎Kohei Kobayashi, Photo by Masakazu Onishi
"Humor and Leap of Thought–Far beyond our recognizable world–" Installation view at Okazaki Mindscape Museum, 2013
---
* In conjunction with Yoshiaki Kaihatsu Solo Exhibition
---